I N V I S I B L E W A L L S
2019 creation at Château Éphémère (78), Stereolux (44) and Eastern Bloc (Montréal, Canada). Exposition at Abbaye de Maubuisson (95), from Novembre 9th, 2019 to March 31th, 2020 in the framework of "Liturgie d'un sonore et visuel" collective exhibition.
INVISIBLE WALLS is an installation that offers a perception of gender inequalities through the immersion into a space where matter and sound are revealed and distorted by genre statistics.
INVISIBLE WALLS approaches the work on data and the questions aroused by these under a peculiar prism. The data used in the piece are of free access, but it is the reality that they tell, their extend, that are not always visibles. It is about giving a new way of perceive and hear these data in a installation whose dramaturgy as well as sound and visual spatialisation interrogate the spectator's will-to-know.
This project is situated within a research space at the intersection of different disciplines, allowing the emergency of a hybrid field of creation, where visuals arts dialogue with mathematical science as well as sociology and music. INVISIBLE WALLS discuss the problematic of how a scenographic installation may produce a context for the comprehension of socio-political issues.
The creation takes its formal inspiration from social reality itself, trying to represent it through a work based on matter sculpted by data, that renders the way as these inequalities operate reliefs and crooks in our societies.
The dramaturgy, composed of three scores, takes as guiding thread a reflection about the way the spectator will apprehend the data after being himself apprehended.
In french: dossier artistique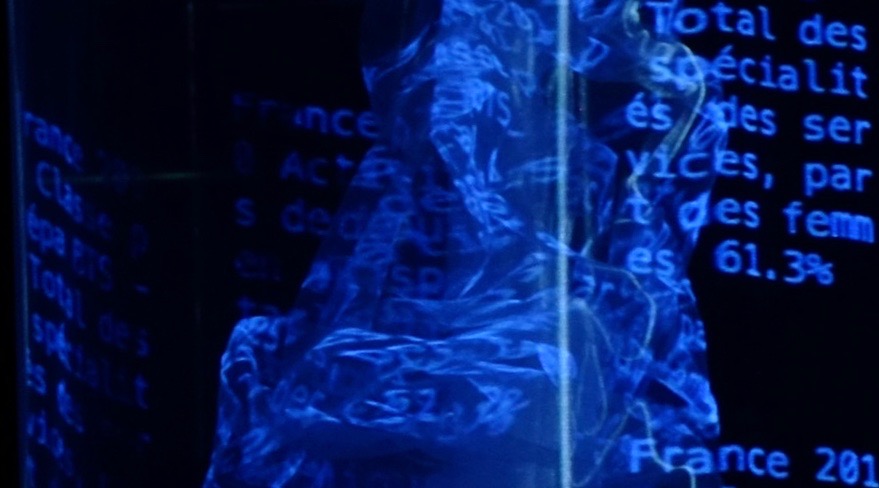 « (...) une de nos servitudes majeures : le divorce accablant de la connaissance et de la mythologie. La science va vite et droit en son chemin ; mais les représentations collectives ne suivent pas, elles sont des siècles en arrière, maintenues stagnantes dans l'erreur par le pouvoir, la grande presse et les valeurs d'ordre »

Roland Barthes, Mythologies, 1957 Seuil, Paris, Collection Points Essais, p.63

G L A S S C E I L I N G S
Glass Ceilings, interactive installation, command from the Nanterre Digital festival in 2017 around the topic Women in numérique.